September 28, 2014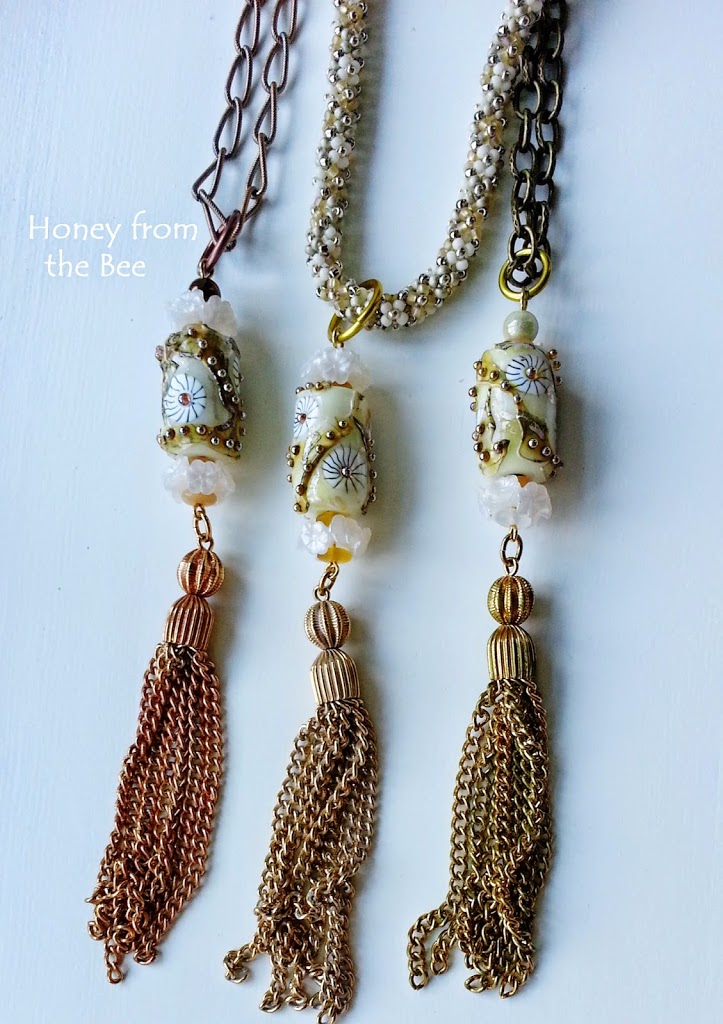 It was as simple as coming across three golden tassels in my stash and seeing these golden daisy lampwork beads by Debbie Sanders.  I'd bought them some time ago apparently, because I couldn't remember who the artist was, and when I was directed towards Debbie by another lampwork artist, she couldn't remember how long ago she'd created them either!   I thought it was cool that another lampwork artist (Donna Millard) knew whose beads they likely were!
I really dislike making the same thing twice so I decided to play with patinas to subtly change the color of the tassels.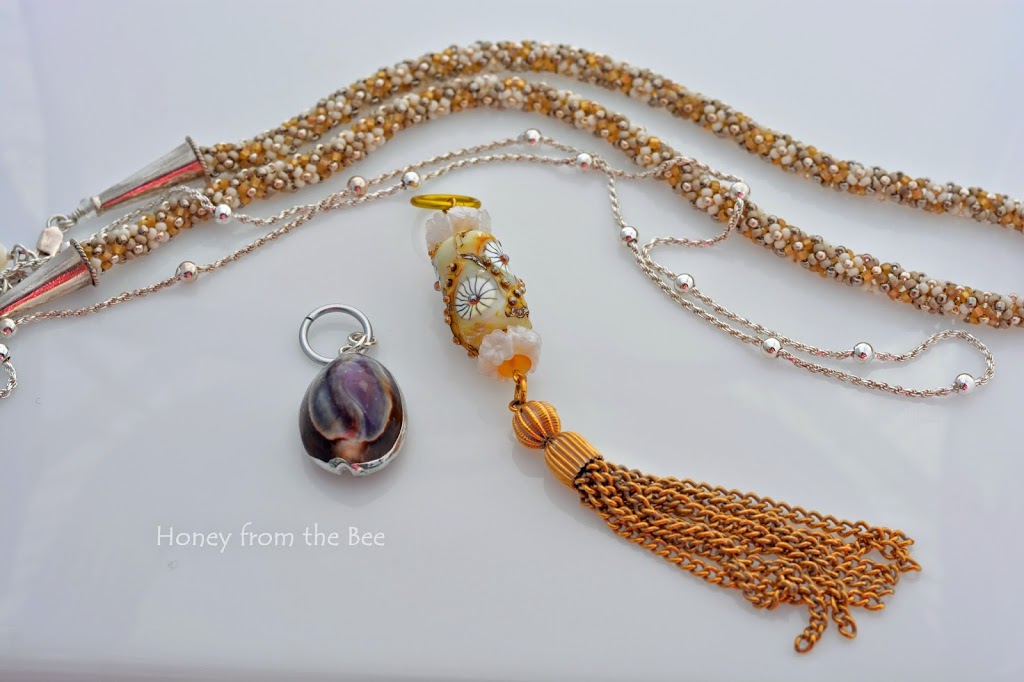 Although navy is my friend's favorite go to color she loves the glamour of white for accessories.  Some of you may remember the beaded rope I created for
A Stitch in Time 4
 done in chenille stitch.  I always intended to create a charm out of the cowrie shell for her since I found it on our Carmel getaway, but I delayed completing any of it in dumb hope that if I didn't finish it... she wouldn't move.  Well, it didn't work and she gets two pendants!
The dye-oxide is like water so I sponged the dye-oxide on several times to build up the oxide until I was happy with the result, let it dry a couple of days, and then put the sealer on.
For the tunic length Daisy Tassel I decided to get some rosy copper look going since the vintage chain had glints of it.  I used Rub 'n Buff Autumn Gold to give this tassel some dimension and glow.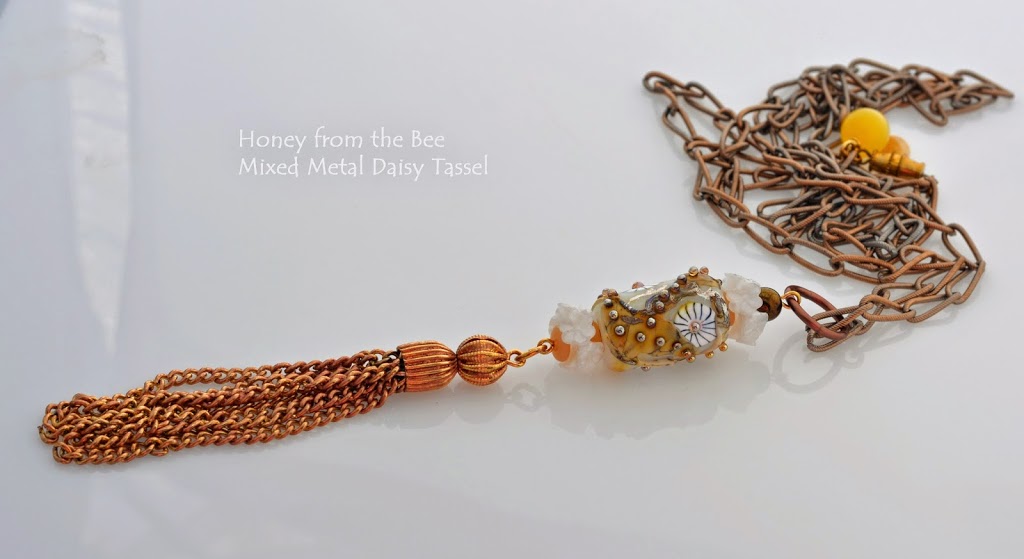 Rub 'n Buff is easy to use.  It comes in a small tube and it's like toothpaste.  I just used my finger, but you could use a soft cloth.  I did use a soft cloth to buff in between applications so I could control the level of patina on the tassel.
The third daisy tassel is given a patina with Baroque Art's Gilder's Paste.  I used African Bronze since the chain I wanted to use was closest to that color.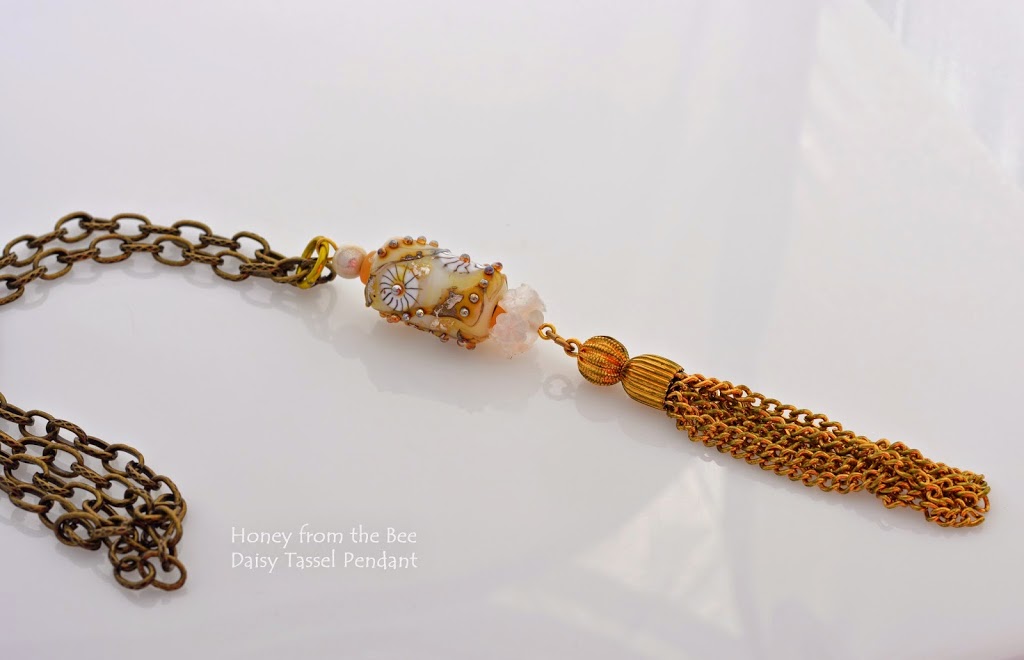 Gilder's Paste is the consistency of shoe polish that comes in a tin.  It takes longer to apply which can be a good thing so you can go as subtle as you want.
I love how all three turned out.  I played with lengths as well and found they looked great as a regular pendant length of 18-20 inches all the way to 34" for tunic length.  Although they have a daisy theme, the metallics make me think of Christmas ornaments and holiday celebrations.  Makes them pretty versatile I'd say!