November 14, 2012
When I signed up for the Spellbound event I was in dire need of some feminine elegance.  After dust, noise, and men (and combinations thereof) around me for half a year due to a remodel, an escape to learn new techniques featuring lace and fibers was just what the doctor ordered.  The Langham Hotel in Pasadena was the perfect... I mean perfect place to unwind and feel like royalty.
I loved all of my classes, but the one that inspired me the most was the Celestial Cuff class taught by Michele Muska.  She was everything I look for in a teacher.  She was patient, prepared, approachable, and generous.  She introduced us to the Simplicity felting machines and I fell in love.  I was one of the lucky ones that got to purchase one of the "used" ones at the end of the event and am so excited to start using some of the fibers I've accumulated.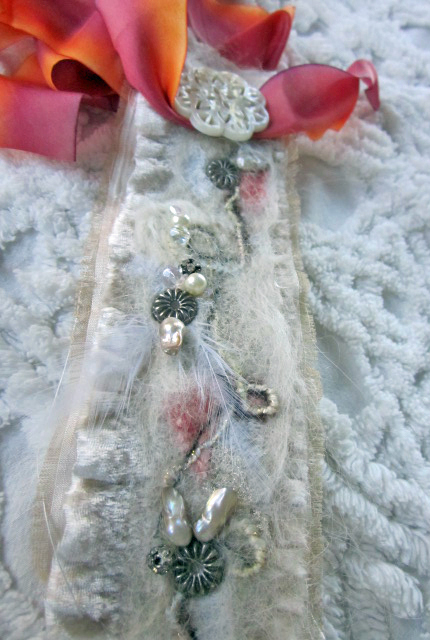 Celestial Cuff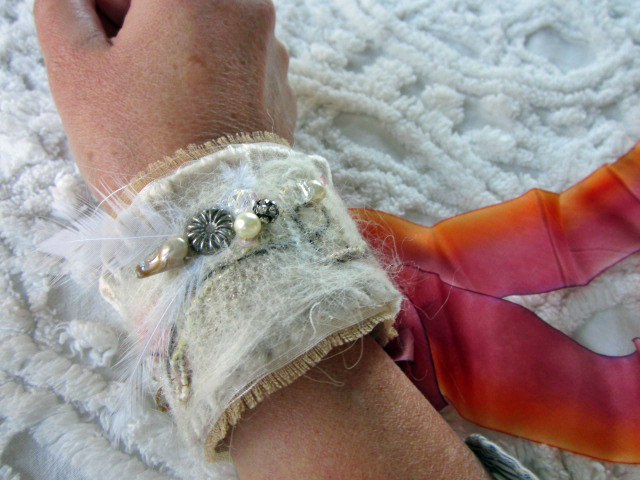 Hannah silk ribbon for closure
JoAnnA Pierotti is an artist I've long admired and even used one of her eCourses to create a ceramic doll face in a mixed media piece I blogged about in this post.  To meet her in person and to brush up on soldering (with a soldering iron) was a treat.  Her tattered elegance work really appeals to me:  lace and age.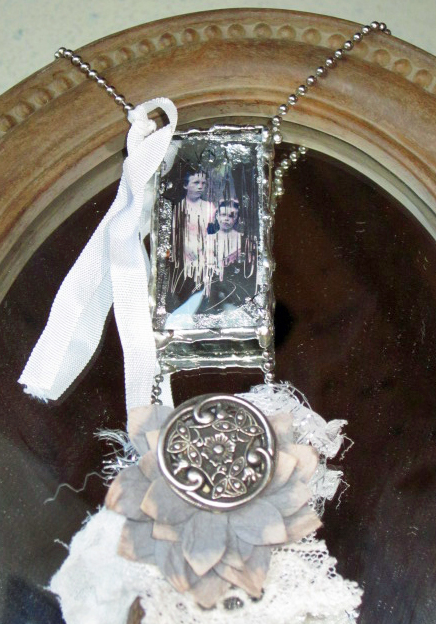 BFF soldered pendant
Kristen Robinson is adorable and her work is rich with fun details.  This class, Tale of Beauty, was more soldering, which I thought I needed lots of practice with, but now I know from my table mates that my soldering iron must be a lemon!  She also gave us a demo using IceResin with tips born of experience.  My wrist is so tiny that this really doesn't work as a bracelet for me so I'm going to turn it in to a pendant so I can wear it lots.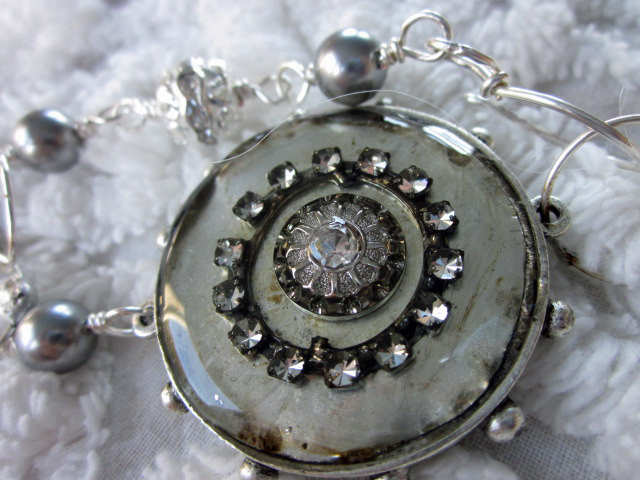 Tale of BeautyBeads, vintage beads!  
The last class I took was taught by Kaari (pronounced Car-E) Meng of the fabulous French General store.  A crown fit for a tiny princess or perhaps a lamb?  This ended up being a substitute class for me since an original class I signed up for got cancelled.  It's proof you should always keep your mind open, as I just loved wiring beads into a 3 dimensional piece!
In fact it was everything I'd hoped for with sugar and spice and everything nice all around me for 3 days!  
I never did get a chance to get that pedicure I've been needing, but getting to be creative all day, chatting with like-minded women, learning new techniques and ordering room service did my soul good.  
The icing on the cake was stopping in Paso Robles on the way home to check out an antique shop and finding a vintage jeweler/watchmaker's stake set in excellent condition!  Now I must see if I can find instructions somewhere!