October 09, 2012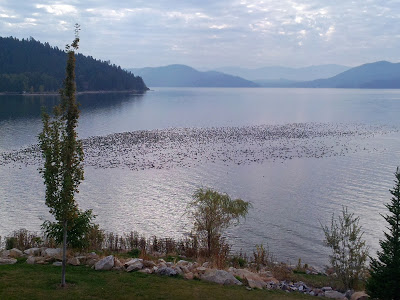 Coots gathering October 8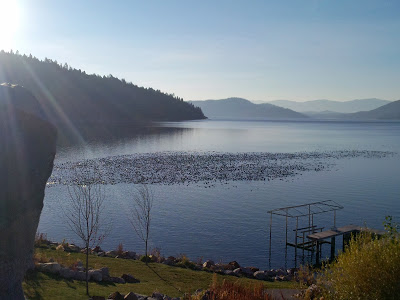 Coots growing gathering October 9
The arrival of migrating coots brings flotillas of thousands that drift on the lake separately and then combine in the numerous bays into one like starlings in a murmuration.  They don't move as quickly and actually are weak fliers with short rounded wings, but peacefully drift into tight groups and apart to their own rhythm.  It's a sure sign that Fall has arrived in northern Idaho.(According to my husband I'm a rare bird in that I love seeing the coots.  Apparently they're not thought fondly of by many?)
Have you seen a murmuration?  It's a fascinating phenomenon captured by a number of videographers.  This particular one has the scientific reasons for it as well as some gorgeous photography.
So we know from the coots, the below freezing nights, and the calendar that Autumn is truly here, but what's with the budding trees?  The trees in northern Idaho have been confused all summer showing signs of stress:  losing leaves to curling leaves.  Is it due to the exceptionally wet June, long dry hot summer, last winter's milder temperatures, or some sign of what's to come?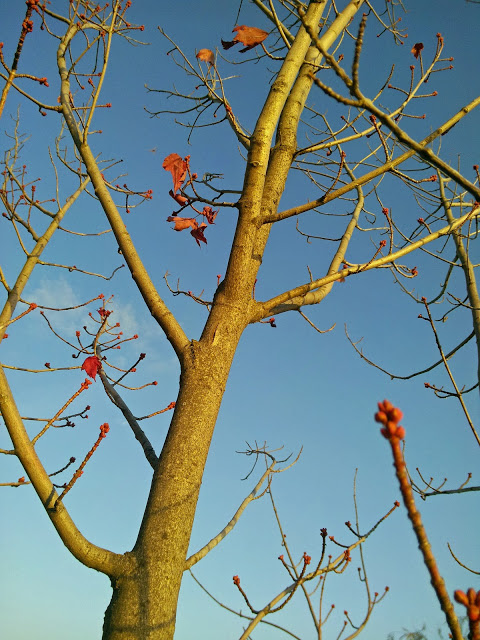 Red maple in our yard is budding!