July 26, 2011
Our small town of 19,000 and the surrounding communities love and support the arts by buying art for all of its residents to enjoy.  There are many examples, but today I thought I'd share photos of some of the murals you can find throughout Port Angeles.  The murals tell the story of our past and our present.
The large mural behind the fountains in the center of town was done originally by Tim Quinn.  
He was in the process of re-doing it due to paint peeling when he passed away before finishing it.  Jackson Smart was a friend of Tim's and familiar with Tim's style of painting so loved the honor of finishing it.
You can't tell from the photo, but the clouds are images of Franklin and Teddy Roosevelt, both who were instrumental in protecting the land that became the Olympic National Park.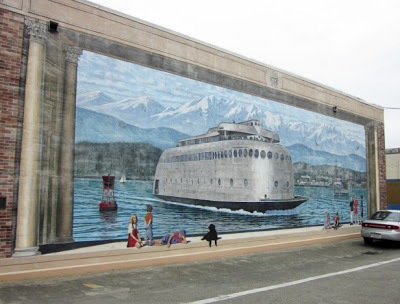 Kalakala ferryThe Kalakala mural was painted by Cory Ench in 1995.  
Kalakala was used on the Victoria - Port Angeles route for many years in the summer.  It was designed by Boeing in the early 1930's.  It later became a fish processing plant in Alaska!  More of the story can be found on Cory's gallery page.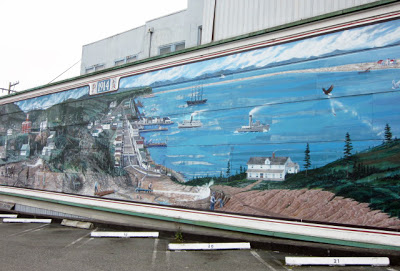 Sluicing the Hogback by Tim QuinnPort Angeles was built on tidal flats which made it a very difficult journey to go downtown without getting mired in mud and raw sewage.  In 1914 the citizens pumped sea water up to the top of the hills and sluiced mud down to the downtown streets raising the level of the streets 4 meters.  There's an underground tour you can take today to see how our buildings second floors became their new first floors.
In 1998 Cory Ench painted two murals down at the pier.  One depicts the Elwha Klallam tribe and real tribe members were used as models.  
The other is of early settlers in the area.  
The detail and perspective is so real that if you look from the corner of your eye it looks like part of the real landscape.
Love that my fellow neighbors have such pride of their town and support the arts!