October 16, 2010
As I've written before commissions are both exciting and a little scary.  The best situation happens when the client trusts that I will come up with something they'll love. 
What's my commission process? Relaxed as I can make it. I like to ask questions about the recipient, if a gift, and get a feel for them as well as the client.  I am learning to let go of my fears and remind myself that they're asking me, because they love my work.  That means at least half the concern should be gone.  I suppose the person commissioning is a little nervous too?
Here are a couple of examples... This first one was for a client who dealt in antiques.  She loved my work, but most were a little too colorful for how she liked to dress.  At an Art Show I was doing she pointed out some pieces she did like, but then explained what she thought she'd like better.  I noticed she wore a lot of silver and she said she tended to wear blacks and greys.    I designed a sterling silver clasp to go in the front and made a necklace of labradorite, faceted gray pearls and mother of pearl donuts.  The focal is an Art Nouveau styled cabachon that I'd bought from Laura McCabe when she was selling beads on her site.
Black and White Art Nouveau
In this case the necklace was for the client so I knew immediately that I'd made her happy from her reaction.  She gifted me with several broken rhinestone pieces and antique buttons to thank me!
The second one I want to share is going to be for someone on the client's gift list.  This particular client is a regular customer so I already felt comfortable with her and she gave me plenty of time to think about it.  That's something else I really like if possible - time to sit on the idea so that the end result is something I am really excited about.  Since the gift hasn't been given and I don't know if the giftee reads my blog (!), I don't want to say too much.  She left it fairly wide open except for a couple requests.  The result is this seaside inspired bracelet.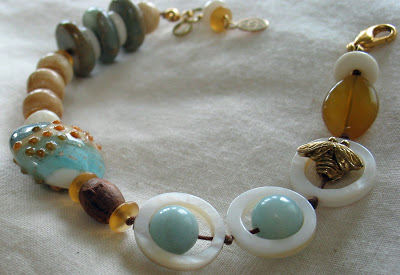 Buzzing the Shore The client loves it so much she may end up keeping it herself!
Both experiences are examples of why I feel I am doing exactly what I'm supposed to be doing and am so grateful that I am able to make others excited about their gifts and personal jewelry.