September 10, 2011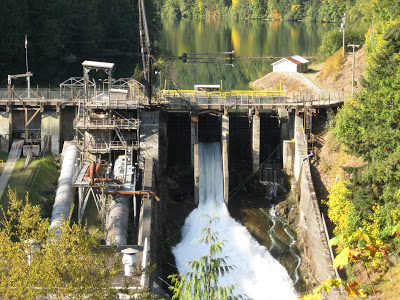 The waiting for all the infrastructure work to be completed is over!  Next weekend the Elwha tribe, many citizens of the Olympic Peninsula and environmentalists around the world will be celebrating the return of a wild Elwha River as two dams are removed.  It is the largest dam removal project in U.S. history!  
To have some parts flowing free again...with deer grazing on its banks...ducks and geese raising their young in the backwaters...eddies and twists and turns for canoeists...and fishing opportunities such as Lewis and Clark enjoyed...would be the finest possible tribute to the men of  the Expedition, and a priceless gift for our children.
Historian Stephen Ambrose, Undaunted Courage
This year was given the gloriously ominous title of "The Last Dam Summer" and I blogged about what that meant to the Elwha Klallam Tribe.  Their joy is shared by those of us that want to see a victory for nature.  It will be late in my life that even the possibility of seeing the legendary runs of anadromous fish like five species of salmon will occur, but isn't that wonderful?  We're doing something to benefit future generations!
Before my husband and I moved to the area we were intrigued and excited about the work throughout the west to remove dams that were either not built with fish ladders, like the Elwha, or otherwise were not providing an economically necessary function if you looked at the overall damage to the native fish runs in the west coast rivers.  Entire ecosystems are and were on the brink of collapse due to the interconnection of a healthy river and a healthy forest, etc.
"When we try to pick out anything by itself, we find it hitched to everything else in the universe."  ~John Muir  
A fascinating article by Bruce Barcott,  a 2009 Guggenheim Fellow in nonfiction, appeared in the August issue of Seattle Metropolitan titled "The Elwha's Last Dam Summer."  It covers the interesting history of how this radical idea of removing dams built illegally without fish ladders was started by a 24 year old Earth First! activist nearly 24 years ago when he painted a crack on the side of the Glines Dam.  
Never doubt that a handful of committed people can change the world.  Indeed, it is the only thing that ever has." ~Margaret Mead
If you are interested in activities surrounding this celebration, removal activities, or webcam footage you can go to the Elwha River Restoration Facebook page and also check out the Celebrate Elwha website with the Olympic National Park.