August 17, 2011
When I saw this month's ABS Challenge painting I thought about how much I've missed riding my bike!  I grew up in the country and my brothers and I used to ride all over hill and dale and follow local railroad tracks to get to our small town's general store and its soda machine with Nehi grape pop.  That and a bag of Lay's potato chips were the fuel that drove us.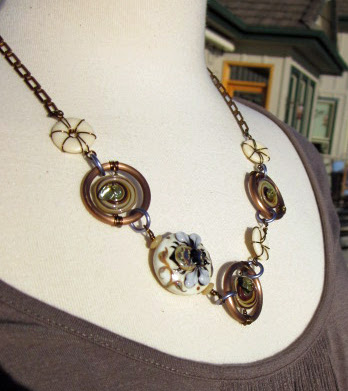 I remember the freedom and joy we felt racing with the wind blowing in our ears.  My legs would ache as I struggled up an extra big hill and then legs would fly out off the pedals as I'd coast down the other side.
For my challenge piece those memories were in mind as well as the colors and textures seen in this painting: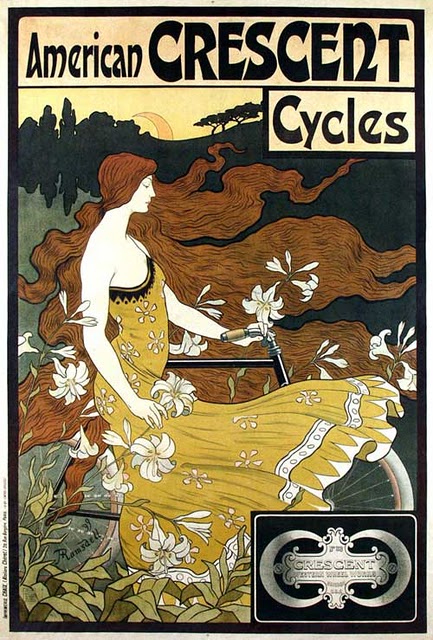 Illustration for American Crescent Cycles, 1899
Frederick Winthrop Ramsdell
The focal lampwork bead in this piece is by Kerri Fuhr.  She makes the most incredible bee, dragonfly, raven, and other tenderly detailed beads in her studio in Canada.  She even offers tutorials for those wanting to learn some new tricks.  Her beads are costly, but when you look at the detail and artistry that goes in them - I think they're absolutely worth it.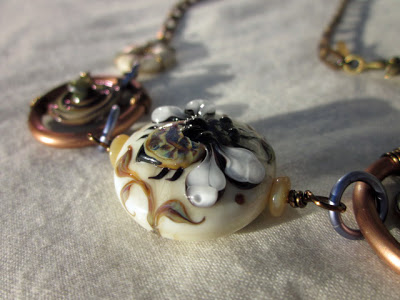 I've wired some disc raku lampwork in shades of dark cream, sage green and a dash of lavender from Radiant Mind of Washington state in some annodized aluminum jump rings.  The swirl suggests motion.  I've put a sage green kashi pearl in the center of each to bring in the leaves from the painting and from the swirls of leaves on Kerri's lampwork.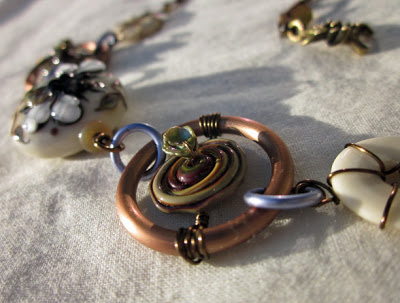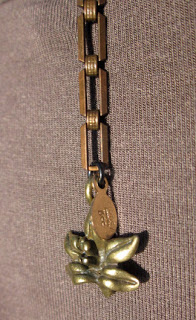 The cream colored donuts are bone and I've wired them with bronze wire spokes for the bicycle wheels.I thought the vintage copper chain looked like bicycle chain!  The patina is wonderful and so is the shape and texture of the links.  A brass colored lily charm is the final touch.
Bicycle Bicycle Bicycle
I Want To Ride My Bicycle Bicycle Bicycle
I Want To Ride My Bicycle
I Want To Ride My Bike
I Want To Ride My Bicycle
I Want To Ride It Where I Like...  Queen (1978)