July 05, 2012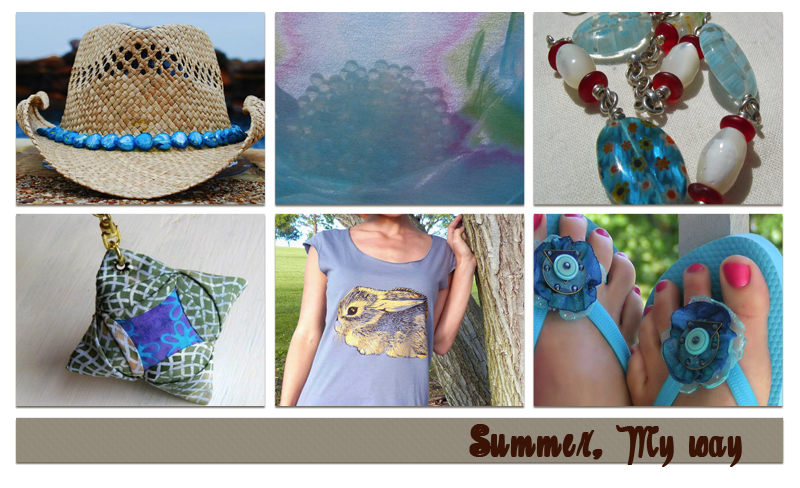 My dream summers are relaxed and where I can grab what's soft, cool and comfy every day.  So what did I find this week?
A very cool straw cowboy hat with a blue heart bead headband from where else - Texas!  It's brought to you by Etsy shop owner Puapapale.
Top center is a peak at a gorgeous summer silk scarf by Splendid Little Stars.  She carries hand dyed children's clothing, too that are just adorable.
Top right is my Sandals bracelet.  I've used sterling silver chain and clasp with vintage mother of pearl and sweet millefiore glass beads in summer colors.
Bottom left is a soft fabric keychain by a very talented Etsy shop owner Birgitte of Sew Danish.  Her needlework skills never fail to delight me.
I love bunnies and the color of this women's Baby Cottontail tee by Fleur of San Francisco.  Everything is rabbit themed in her shop!
And a new product I haven't seen yet are these flip-flop clips in aqua and blue.  Accessory Extraordinaire has lots of colors to choose from and what neat thing to put in your suitcase to dress up those flip-flops you wore to the pool earlier in the day?!
************************************************************************************
This post is my weekly Fashion Story link-up!  Bloggers that want to join in have a whole week to link up their fashion storyboards.  Hope you'll take the time to visit and comment on those that do.  You'll find the links at the end of this post.  Hope you Get it Together!