September 13, 2012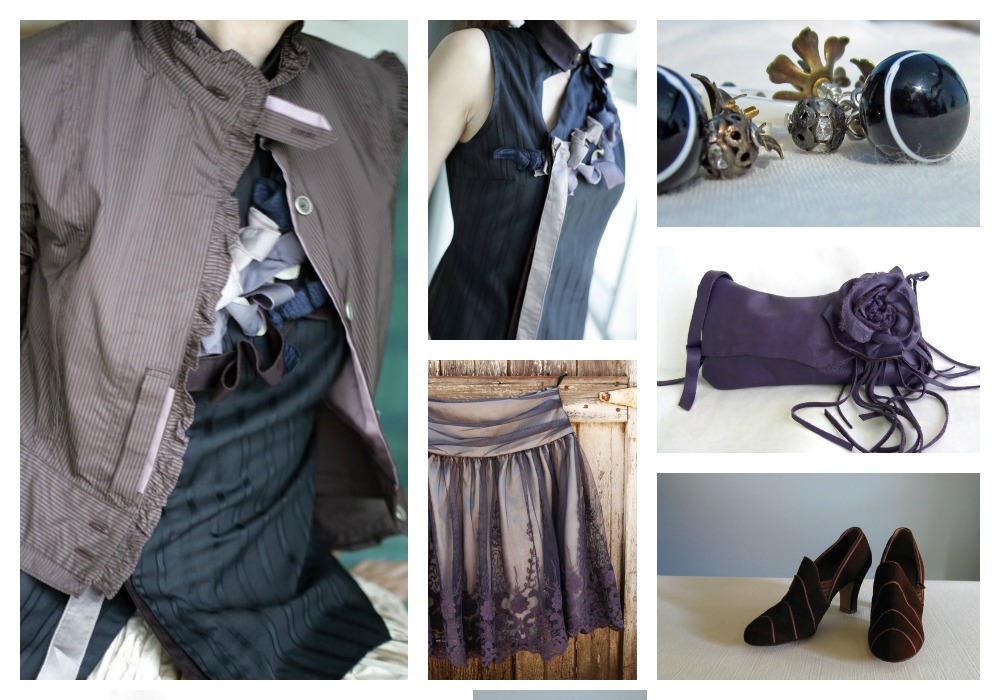 Boho Vintage Style
I'd add some tights, grab my husband, and head to dinner and a play in San Francisco!  What would you do in this outfit?
I absolutely love the jacket and be-ribboned blouse I found on Etsy by Handsome Comely.  I would wear this jacket with a white blouse and jeans, black pants and a camisole... 
The skirt is one of Fox'n Lily flower girl skirts, but I'd wear it in a second if it was in my size.  She has enough fabric to make more, so maybe she can be persuaded to make at least one in a big girl size?  [UPDATE!  just heard from the maker and she says this skirt ONLY comes in adult sizes!  Just contact her and she'll make it to your measurements!]
My Peppermint Patty earrings are so versatile - just ask my sister-in-law! She scooped up a pair just as I was posting them on Etsy.  Fortunately for you I had some more vintage beads to put together another pair.
I've featured one of Tuscado's leather purses before, as I can feel the softness of that leather just in the photos!  I love the boho, hippy chic, old west, and color!
In looking for a pair of shoes for this outfit I fell for a pair of vintage 1930's suede heels from Vintage Wise of South Carolina.  They're not my size, but maybe they're yours? **********************************************************************************
This post is my weekly Fashion Story link-up!  Bloggers that want to join in have a whole week to link up their fashion storyboards.  Hope you'll take the time to visit and comment on those that do.  You'll find the links at the end of this post.  Hope you Get it Together wherever you're going!