February 23, 2013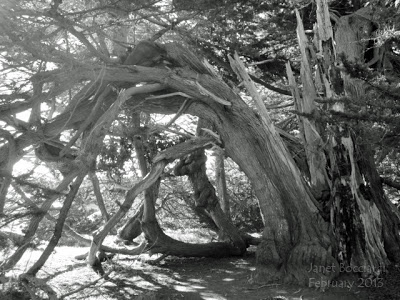 This week's challenge from Sally of the Studio Sublime: Monochromatic photos tell a story, evoke emotion and uncovers the soul with the simple contrast of one color.  Monochromatic photos enable the viewer to see a deeper meaning behind what may be concealed by multiple colors.
Ansel Adams comes to mind for me as a master of black and white photography that tells a story.
 His majestic photos at Yosemite are much more impactful in black and white than they'd be in color.  You see every tree, every crag and feel the strength and beauty in natural forms.
I love Eucalyptus trees.  Not only the scent but their peeling bark and seemingly constant movement.  This was one hanging on to life with all its might.  The sunlight softens and seems to caress it.
I planted 200 more daffodil bulbs this past Fall.  I couldn't help seeing how taking away this one's yellow and orange would affect its image.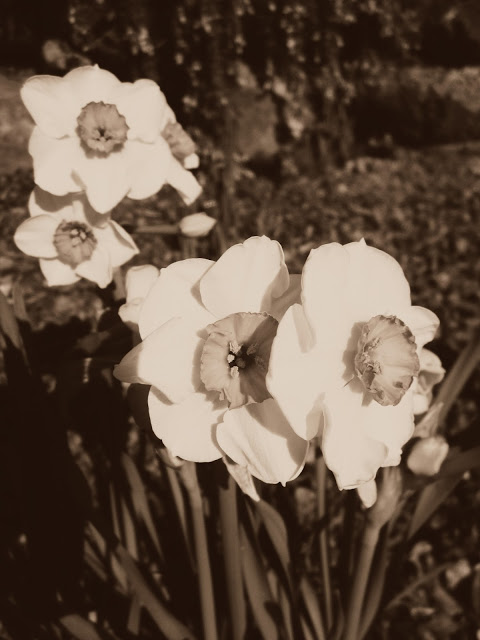 I definitely think you can admire their stately brash face even more in monochrome.
That was definitely a challenge and one I'm going to try with my new camera.  Yes, I just received my new camera which I can't wait to try!  I have to get a storage card since it didn't arrive with one, but that's easily done so hopefully next week you'll see my first attempts. This post is part of a blog hop, so please do click on over to the Studio Sublime to see other monochromatic snaps.