September 27, 2011
A few years ago I took a fun class from Richard Salley at ArtFest up here in Port Townsend.  We were primarily making lockets, but he'd started experimenting with torch enameling and brought his whole shebang with him for us to try.  btw, if you don't know, Richard is a fabulous teacher.  He's generous with his knowledge and very encouraging.Although I love my locket it was the torch enameling that was tickling my muse.  I'd done regular enameling in the kiln, but I loved being in the moment and seeing what the different colors would do under a torch almost immediately.  I couldn't cut up pieces of metal and shape them quickly enough!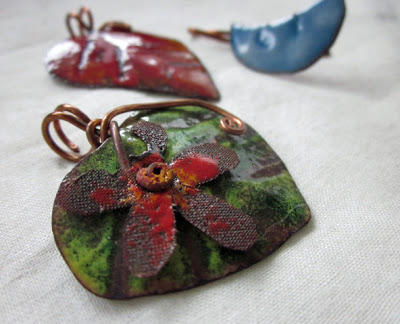 Finding a piece copper mesh I even torched a little on it and was reminded that metal can melt.
When I saw that Barbara Lewis was going to be teaching her torch enameling technique in Portland this week I leapt at the chance.  I wasn't happy with the set up we had in Port Townsend health wise and after reading her book can see her method is going to be more controlled and easier to keep those powders out of the air.  I'm not sure her technique will work for flat pieces like it does for beads, but we'll see.
I'll leave you with the one torch enameled piece from my experiments a few years ago that made it into a piece of jewelry.  I was thinking I'd create these dog bones and attach them as jewelry to my dog's collar, but instead I created a Victorian style mourning necklace inspired by the first two dogs that were in my husband and my home and hearts.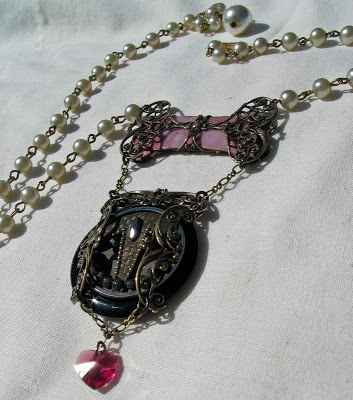 For the Love of a Dog (in my own collection)
Stay tuned this winter as I play with what I learn from Barbara.  There may be a delay in reporting if I do burn my fingers, but I hear they heal.