September 20, 2011
"Dreams are illustrations... from the book your soul is writing about you."  Marsha Norman, American Playright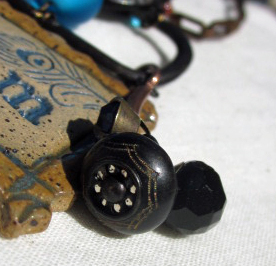 vintage buttons
This month's challenge image from the Art Bead Scene blog was not the easiest for me to be inspired by with its image of a Gee Bend Quilt.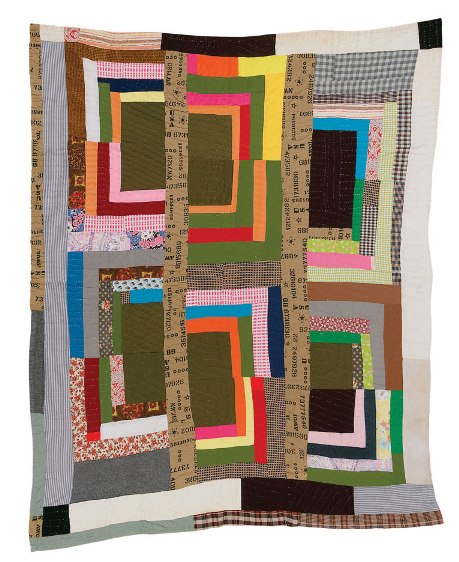 "Housetop"--twelve-block "Half-Logcabin" variation, ca. 1965
Cotton, Wool Corduroy, 77"x 65"
Lillie Mae Pettway, 1927-1990
It's not that I don't like quilts or find this one fun with its bold colors and Picasso like piecing, but how to interpret for a piece of jewelry?  I first thought I would just do a seed bead project with color blocking, but I couldn't get excited about it so I just let it sit and fester, urrrrr, percolate or soak in for awhile.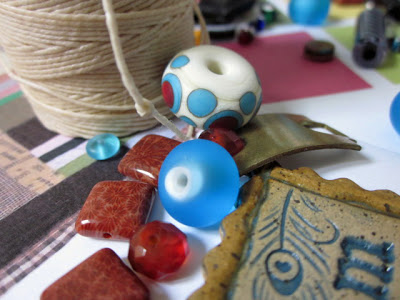 I pulled some beads out, as I mentioned in an earlier post, but laying them out and moving them about did not get me too excited.  I decided to do some research on Gee Bend Quilts.  As you may know, Gee Bend, Alabama is the location of a town founded after the Civil War by former black slaves.  They were nearly isolated during the depression and for many years after.  The women developed a distinct quilting style that combined American and African roots.  Although they're getting very famous now after Oprah introduced them nationally, they were fairly well known prior via those who loved folk and quilting arts.  Reverend Martin Luther King, Jr. visited their small town the evening prior to the Selma march in 1965.  You can find more of their history as well as a place to bookmark for future sales of their quilts on The Quilts of Gee Bend website.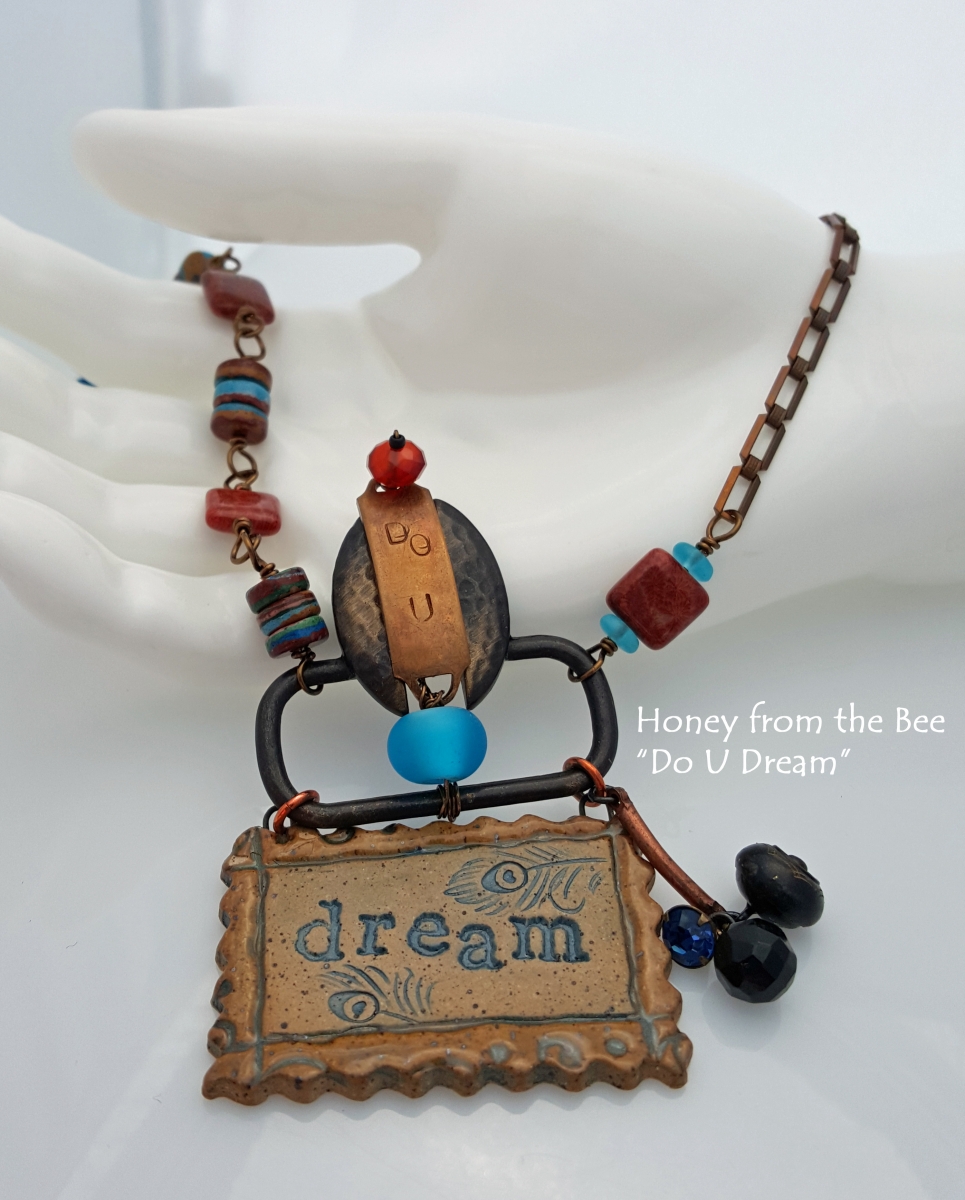 Dream pendant - Lisa Peters Art; Blue Glow Bead - Adorned in Treasure
Fireworks went off and I was designing this necklace full of aged bright colors like those in the quilt pictured above.  Recycled items seemed appropriate so I used part of a vintage buckle and an old ID tag I stamped with "Do U" to create the pendant.  The ceramic Dream pendant from Lisa Peters Art seems to  float in the breeze like a quilt under clear blue skies.  When I saw the dream pendant in my stash I knew that even if other bits didn't make it into the final piece - it HAD to.  It tied together Gee Bend, Rev. Martin Luther King, Jr. and the idea that dreams can come true.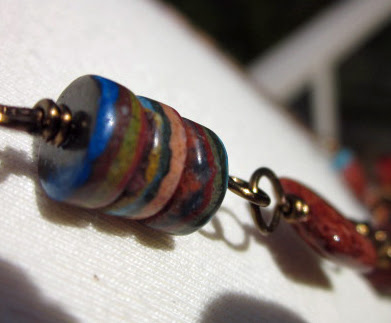 The necklace is composed of a handful of Fordite barrel beads which I bought several years ago for their variety of colors.  They've never seemed to work in a piece before, but they belong here.  Fordite is a man made "stone" created from layers and layers of paint that built up over time in the chambers where they used to paint cars in an assembly fashion.  They no longer paint cars in this way so the beads can be pricey, but oh so gorgeous!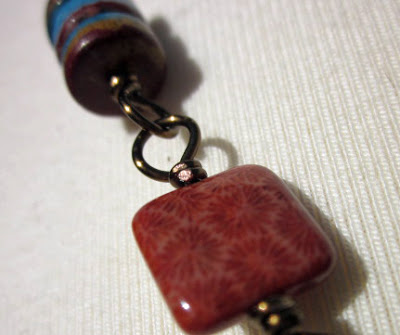 The red fossilized coral agate beads seem to have a calico fabric pattern on them and their square shape is reminiscent of quilt blocks.Buttons and hand knotted linen thread brought in a bit of sewing magic to complete my September ABS Challenge piece!  Now I guess I have to get back to cleaning up my studio.
To purchase, go to the Dream necklace shop link.