September 26, 2011
This coming Sunday, October 2nd, there will be a huge cyber sale being hosted by Love My Art Jewelry.   For one day only:  31 (and counting!) online shops that create unique handmade jewelry and handmade beads and components that go into artisan jewelry will be putting their collections on sale.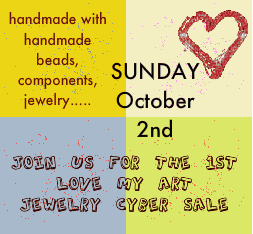 Coupons will be required at each shop, but they will all start with LMAJ...  Mine will be LMAJ20 (for 20% off) and will only be valid in my ArtFire shop (which is now closed.)
This is the perfect time to find handmade one of a kind and unique artisan jewelry for yourself, wife, girlfriend, daughter, niece, Aunt...I think you'll also enjoy getting to know the work of some artists you may not be familiar with.  Click on the graphic above and Explore!