June 29, 2012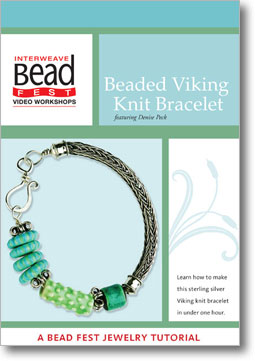 A big thank you for your patience!  I just successfully moved my domain and host from yahoo! to Go Daddy which has allowed me to use my own domain for my blogger blog!  It wasn't too difficult, but it did have me down for a few days.  Welcome back!
*****Since I got to unpack and set up in a bigger studio space I've been able to put away everything in an organized manner.  Me likey!  You will too!
Last week's Giveaway #1 winner is Tonja of Tonja's Treasures!!  Congratulations and I look forward to seeing what treasures you create using the new techniques, Tonja. 
I've found that I duplicated 4 jewelry lesson DVDs.  Rather than set up on Amazon to sell I'm going to give them away over 4 weeks to some lucky readers.  I've also got some tool duplicates that will follow in subsequent weeks.
Second up is Interweave's Beaded Viking Knit Bracelet featuring Denise Peck.
If you would like to be in the random drawing please leave a comment on this post.  You can get additional entries by sharing this through other social media sites like Twitter, Facebook and your own blog; just be sure to enter separate comments on this post where/when you have done so.
I will use a random number generator on the Thursday night prior to the next giveaway's post and announce the winner in the Friday giveaway post.  If I don't hear from the winner in a week's time with mailing address I will re-post giveaway later.  Good luck!