March 23, 2015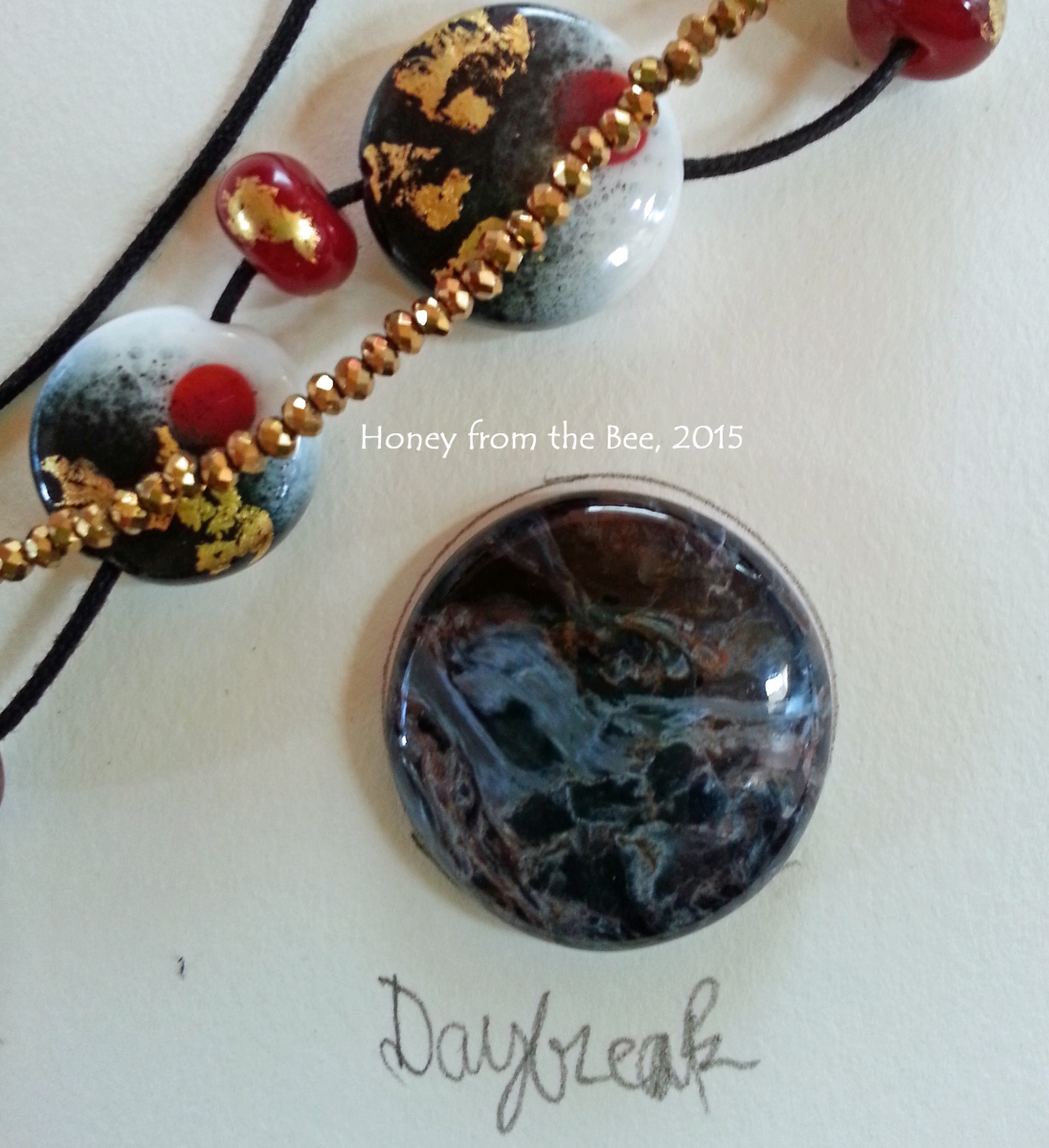 Lampwork by Judith Billig; Pietersite Cabochon
Incomplete idea... I've bought a few Pietersite cabs this winter.  I really like the stone - greys and blues - so hope to do them justice.  The glass beads by Judith were just lying close by and I thought how nice they looked together.
Spring arrives early here in northern California and with that I get studio fever.  A hankering to leave behind the fibers and to pick up cabochons and beads for new jewelry designs.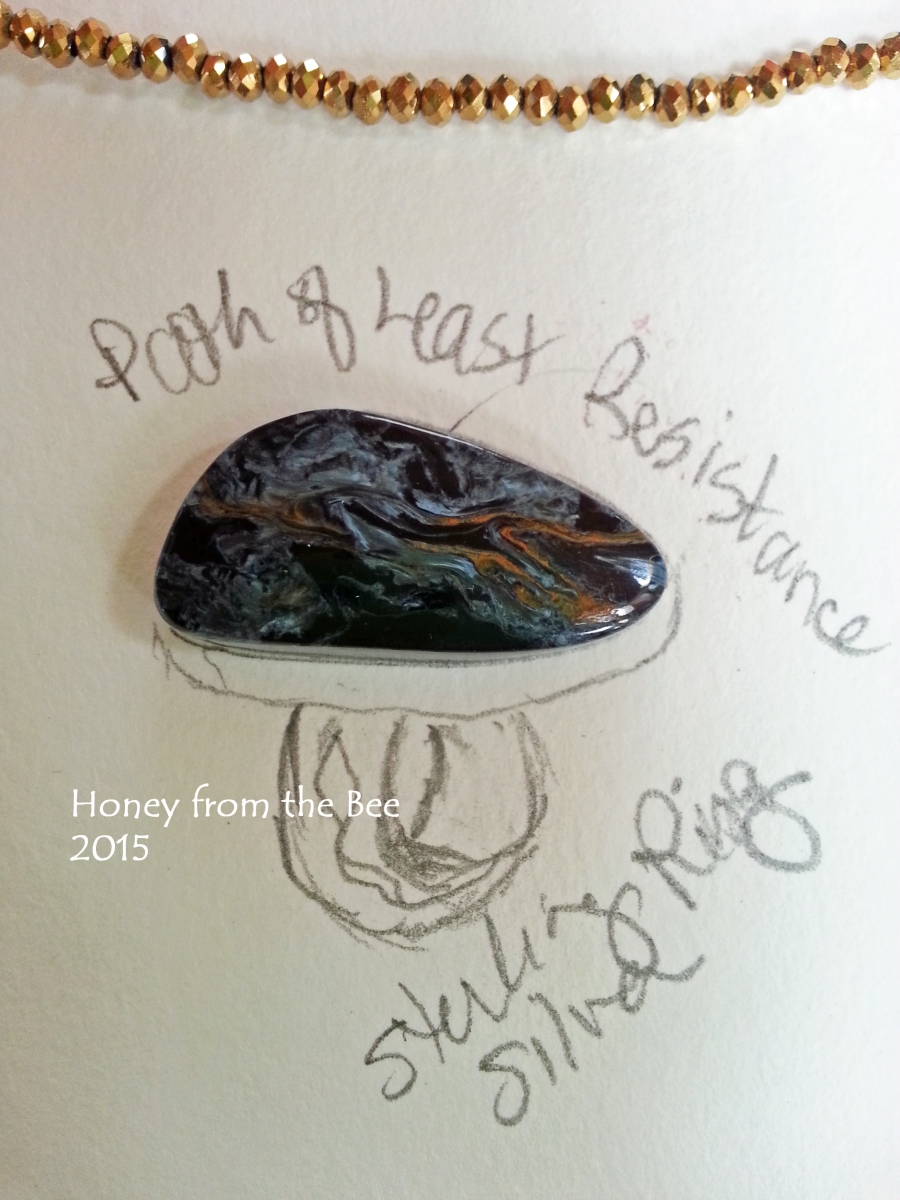 Pietersite cabochon; Sterling Silver ring
I haven't made a ring in awhile.  Maybe it's time?
To be honest I have been tempted by and succumbed to beads and stones all winter.  I went to a couple local gem shows and on Facebook was seduced by lapidarists and lampwork bead artists alike.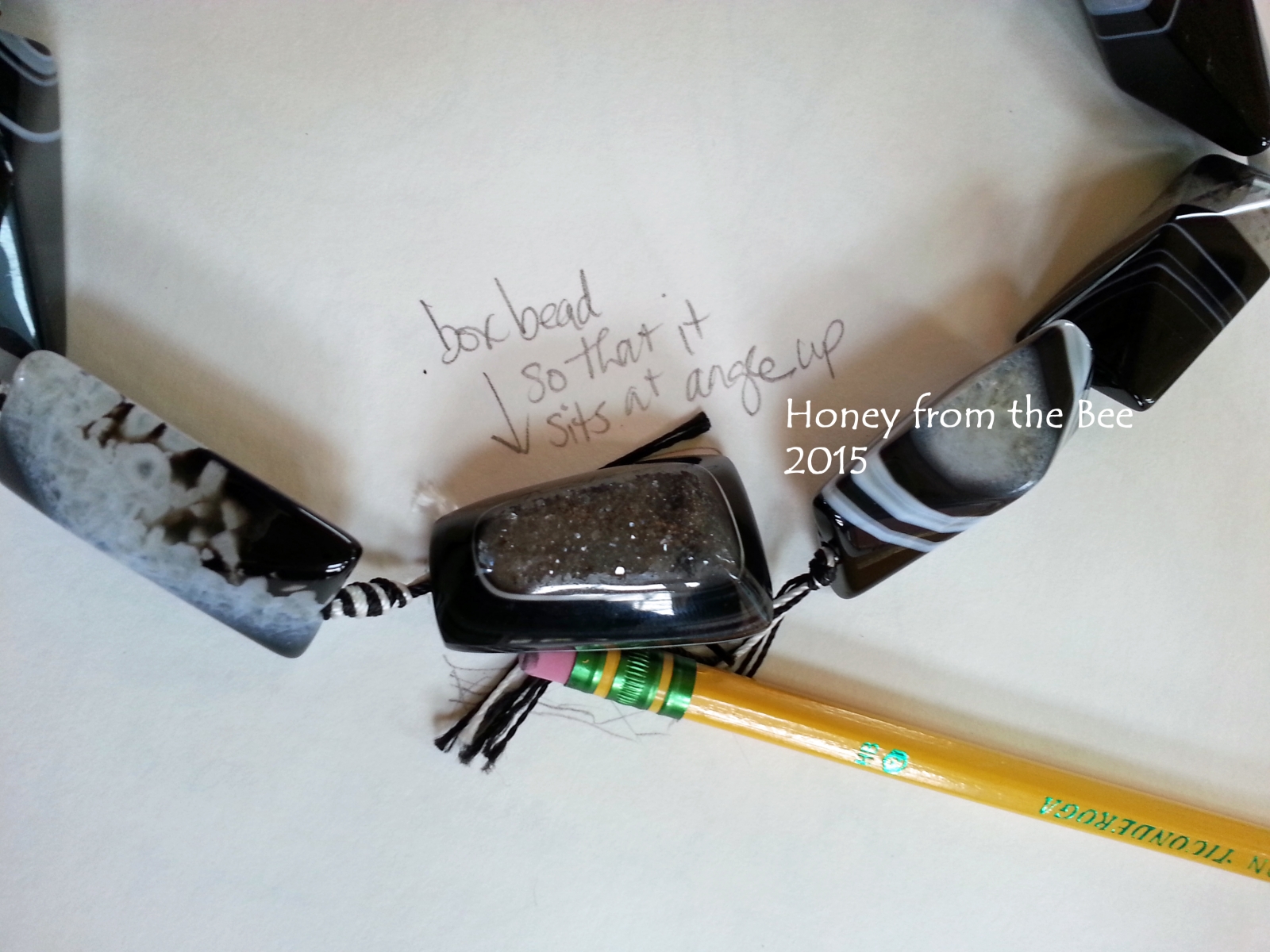 Botswana Agate and Drusy
This amazing drusy was given to me by my friend and fellow jewelry/fiber artist Deb Fitz!  I was excited to find how well it went with some stunning Botswana Agate beads I purchased earlier this year at a gem show.  Since Deb has made some beautiful box beads I thought it would be a perfect tribute to her as well as help the drusy pick up light if I angled it.  This one is going to be challenging!
However I made myself stash the purchases in a bag for later fondling and designing.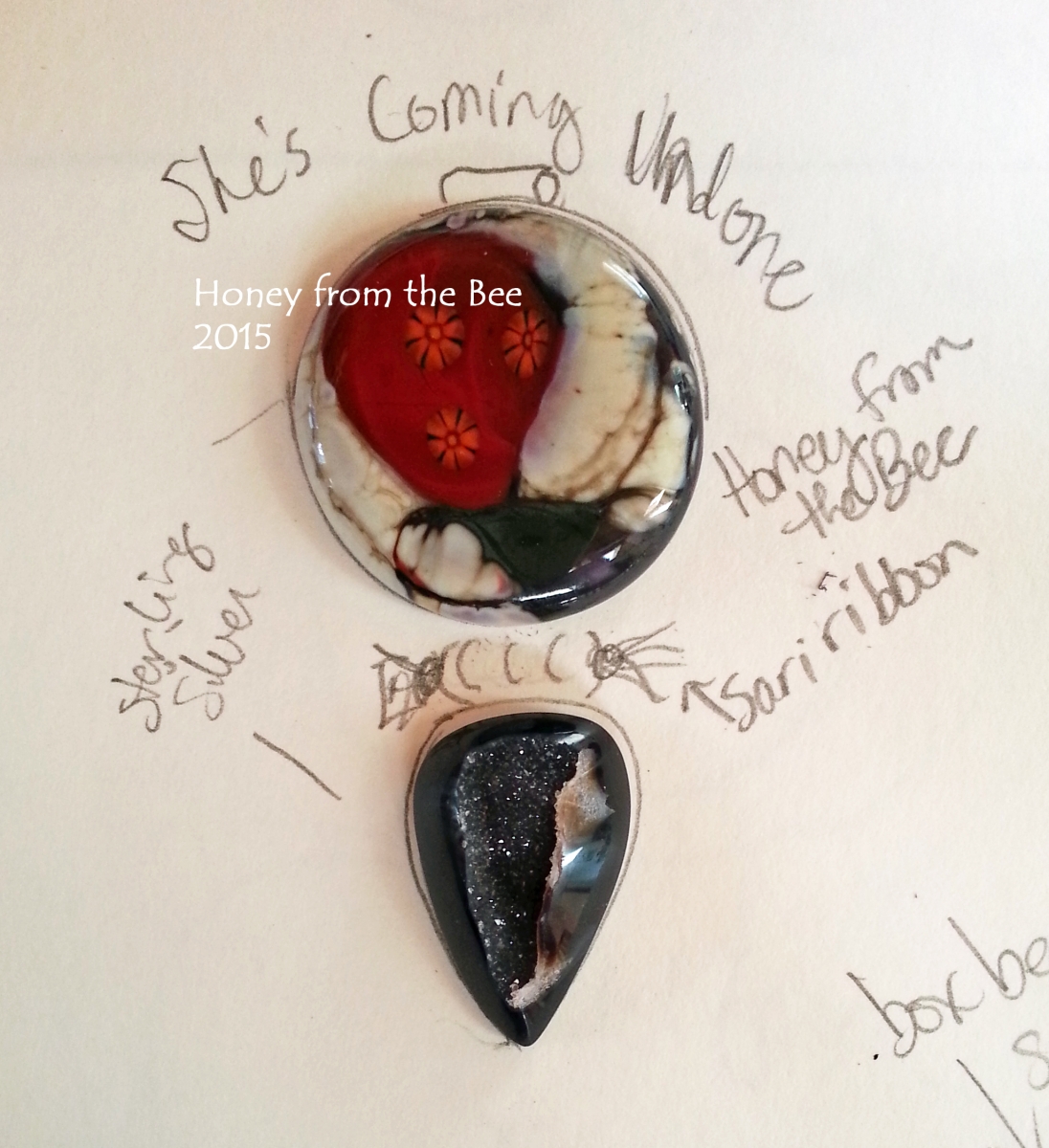 Mikeline Reusse glass cabochon; Drusy cabochon
Another nice surprise was how this drusy cabochon helped unveil my pendant design idea with one of Mikeline's colorful glass cabochons. 
A couple weeks ago I spilled my purchases out on to our dining room table and from time to time I will sit down with my sketch book and try ideas.  I've posted about half of those on my Instagram account and saved some to unveil later or because I think it's an ill conceived or incomplete idea.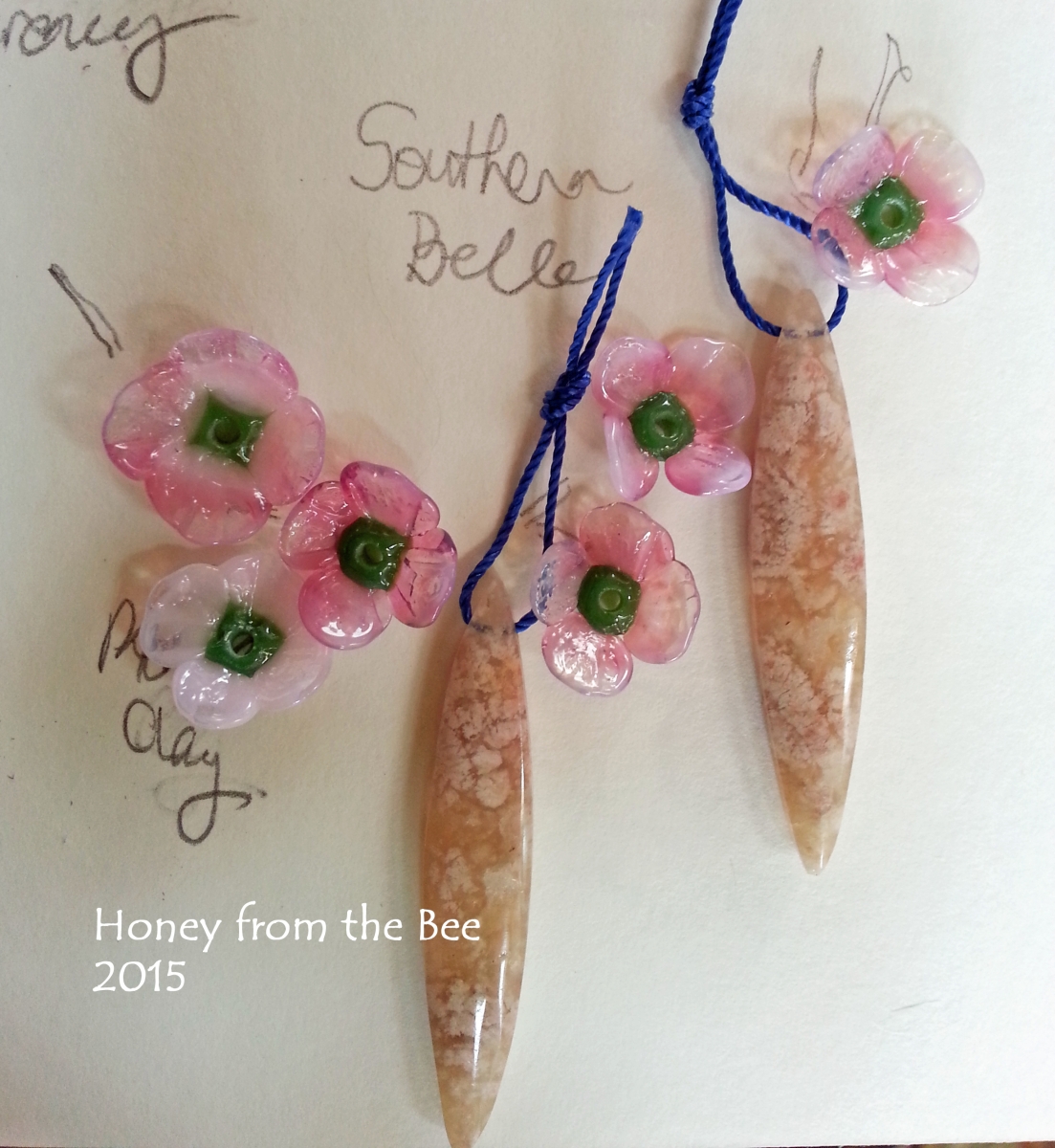 Unusual Ocean Jasper; Cherry blossoms by ? (sorry - anyone know whose these are?!)
Last year some friends said they really enjoyed seeing how I come up with an idea or at least see the early stage of a jewelry piece's development.  So I hope you enjoy these conceptual brain storms.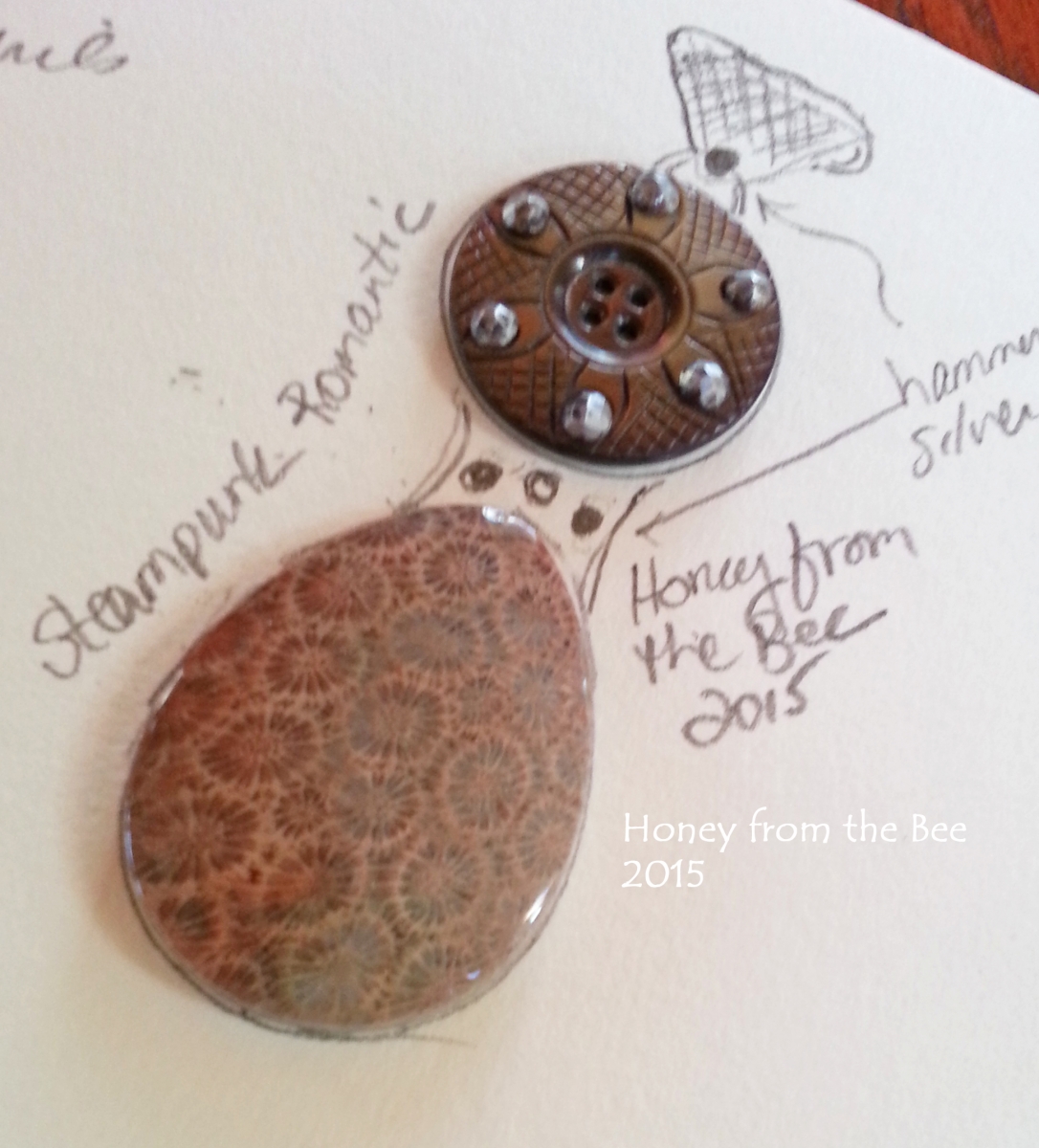 Antique Mother of Pearl and Steel-cut button; Ocean Jasper
One of my many button purchases this winter.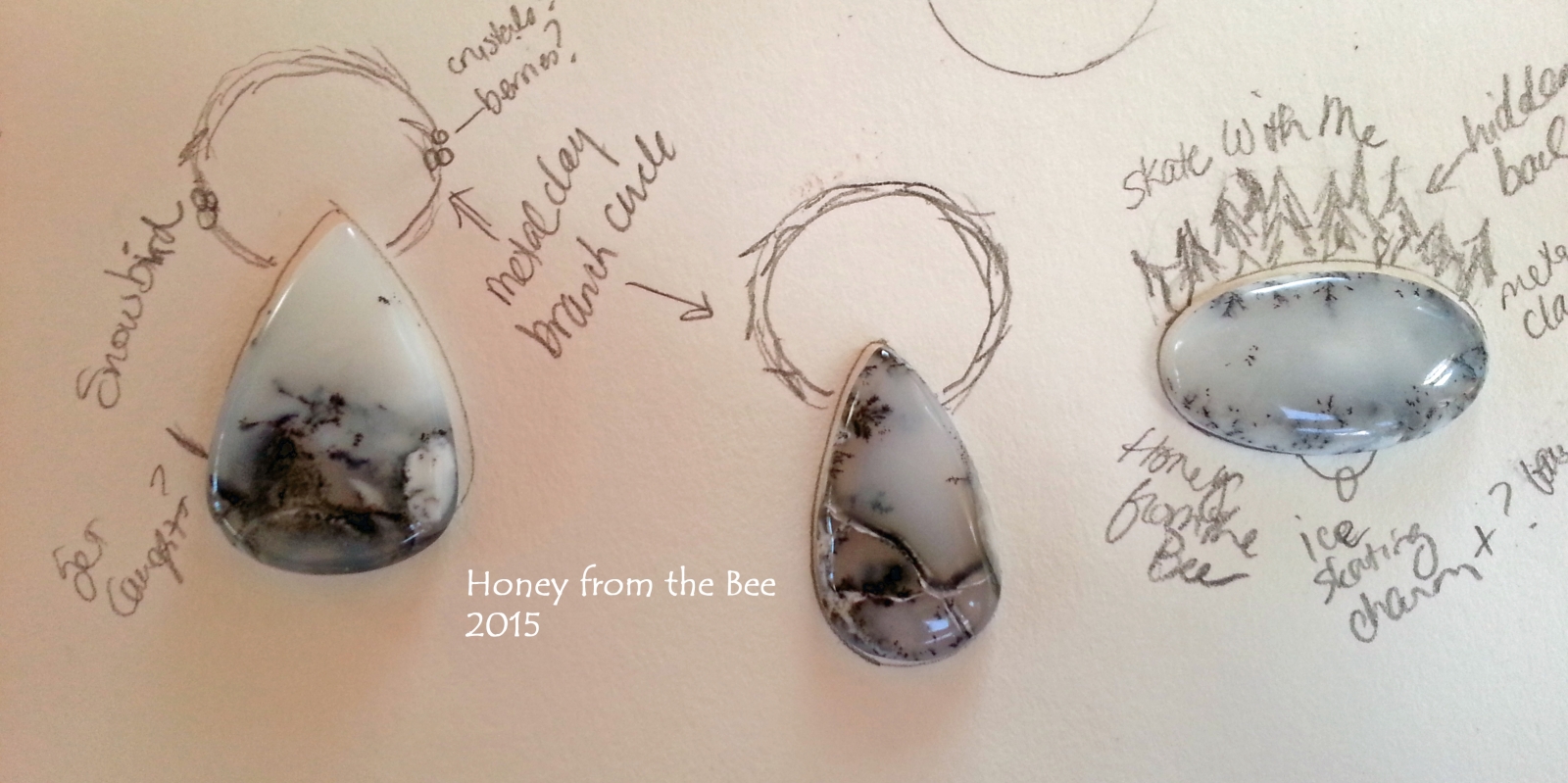 Dendritic Opal Pendant ideas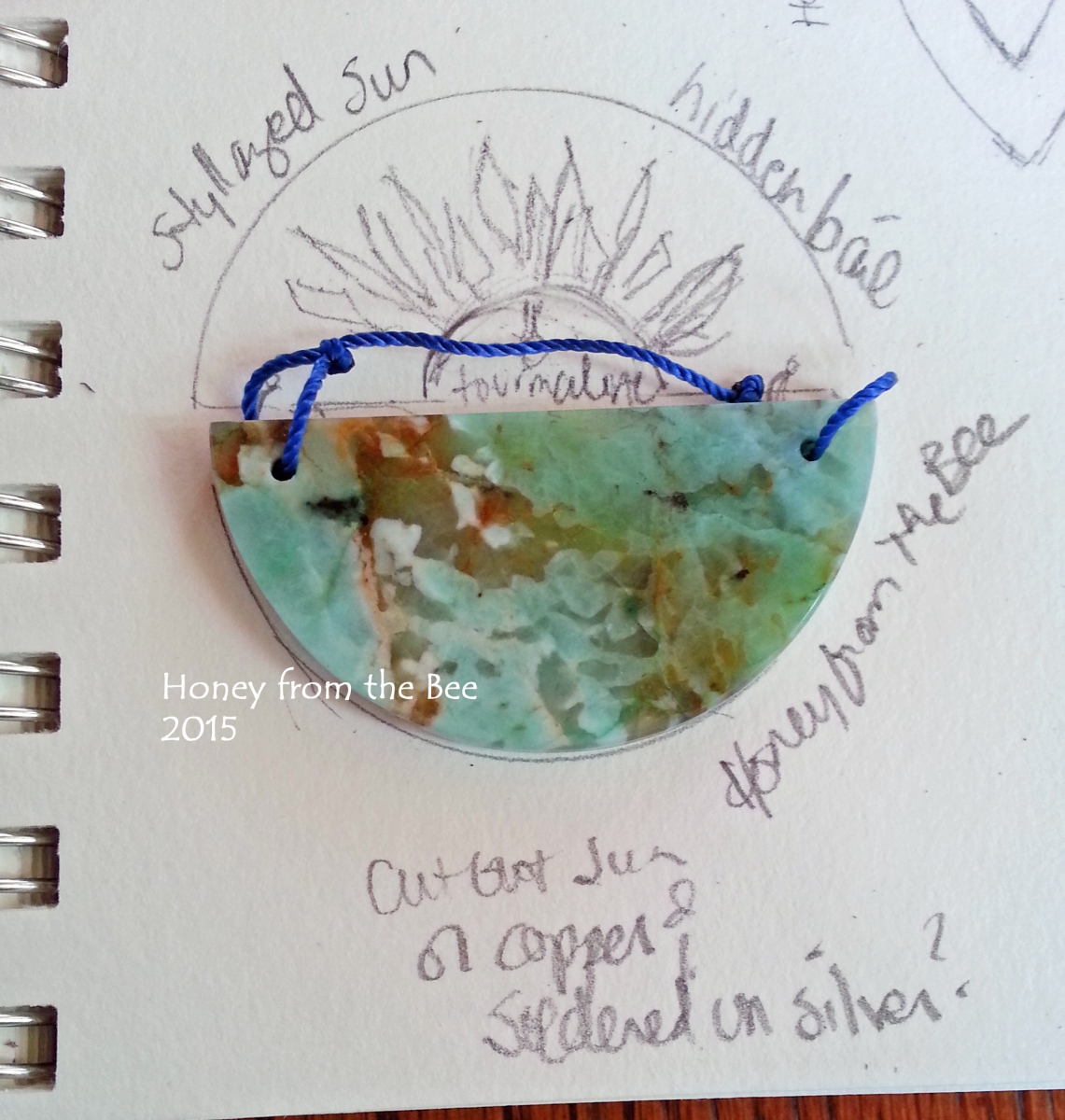 Chrysocolla and Silver Pendant idea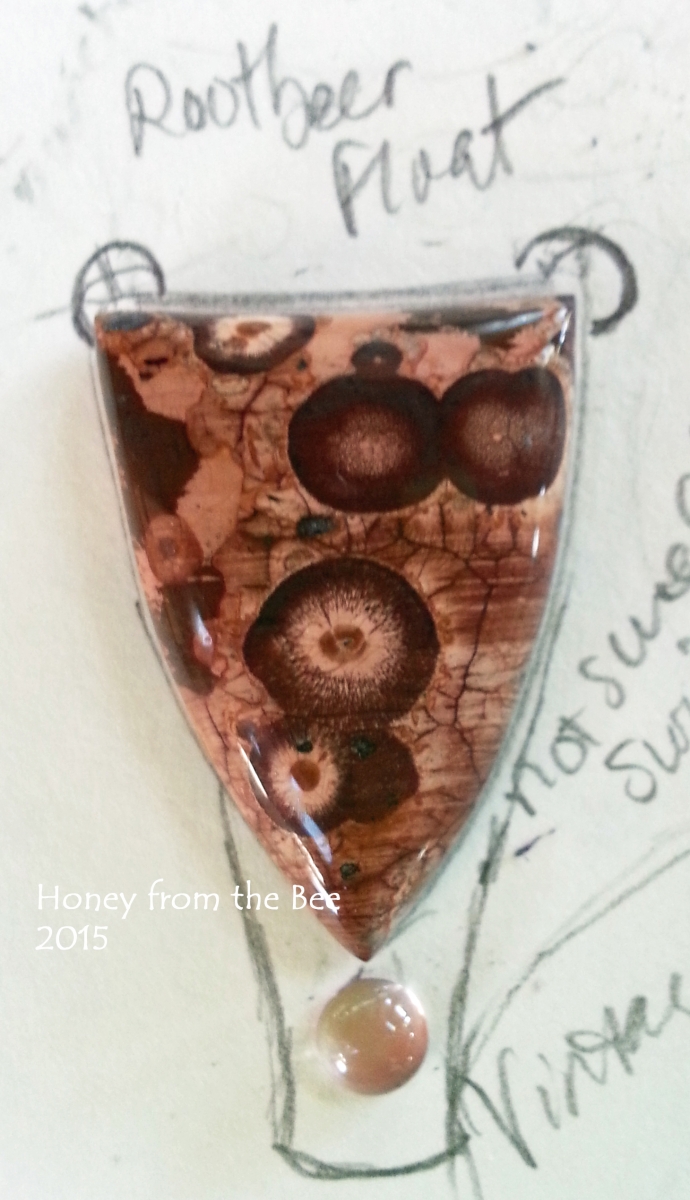 Bird's Eye Rhyolite and Sunstone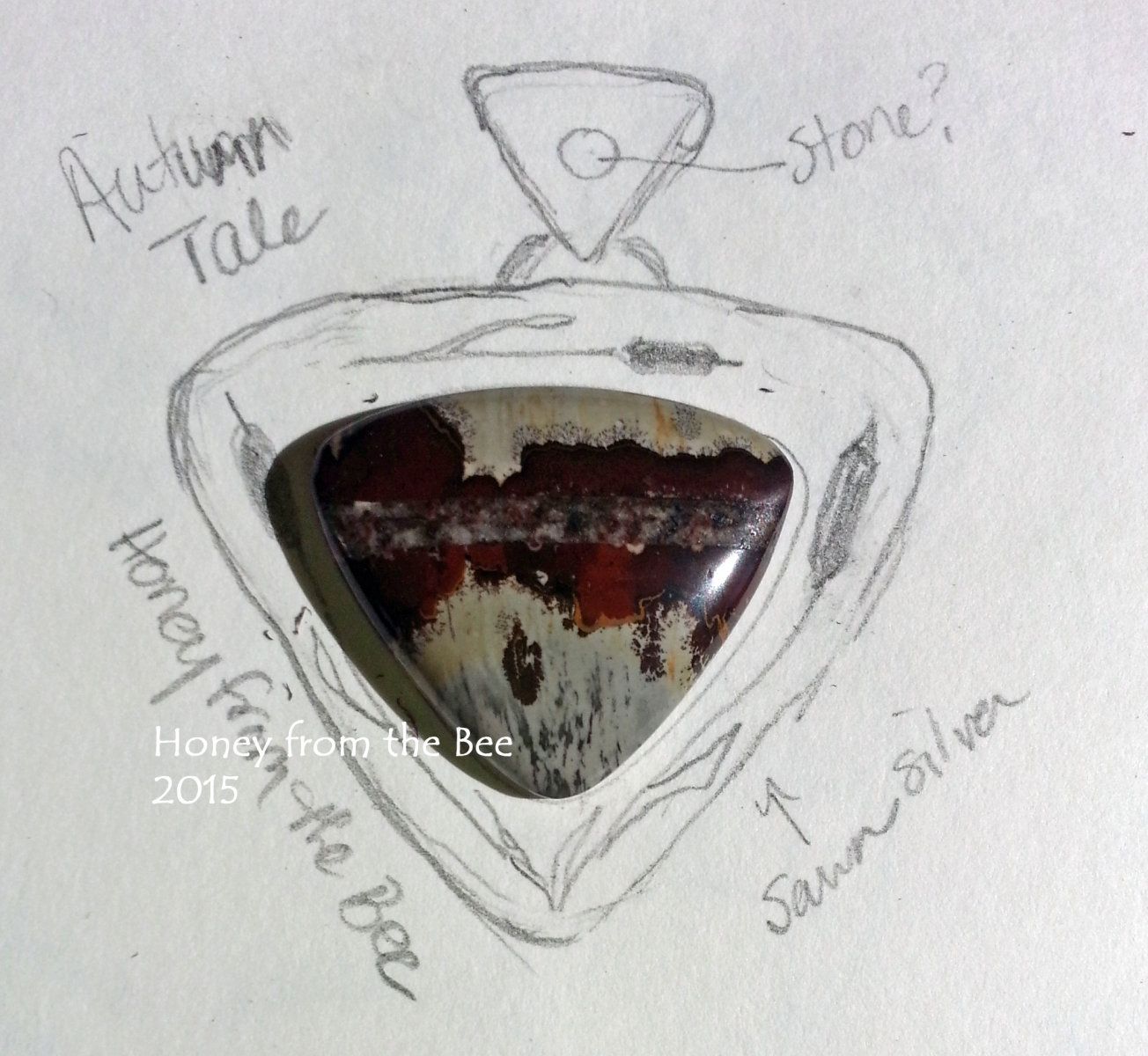 Chohua Jasper and Sterling Silver
Those are cattails I'll saw into the frame.  Looks so much like a familiar lake scene to me.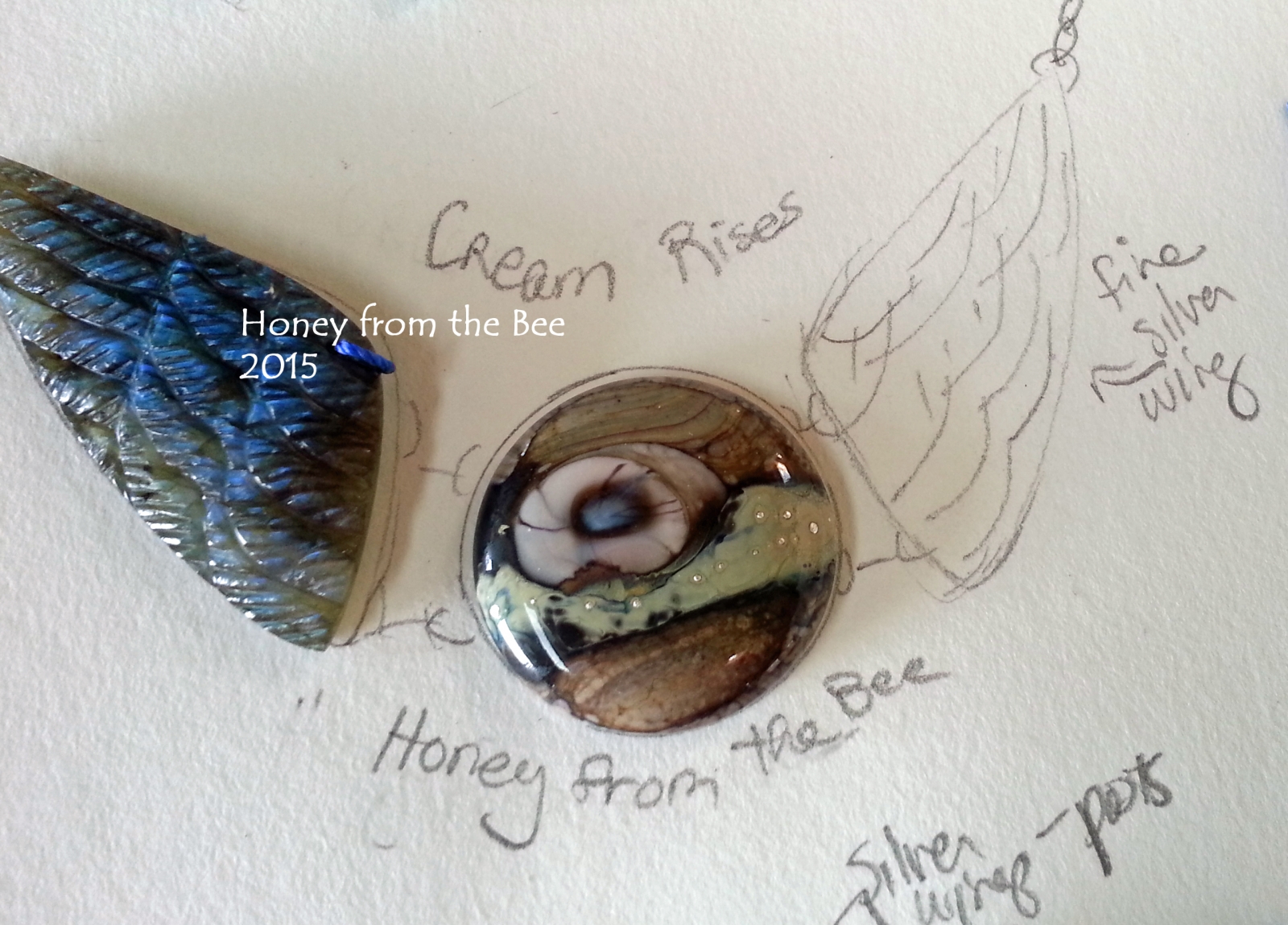 Labradorite wing; another glass cabochon from Mikelene Reusse
Which ones would you like to see me take from paper to wearable first?